Tuesday Turn About #23: Harvest Time
Welcome to Tuesday Turn About #23! In about a month, we'll all be getting creative with turkey leftovers and thinking ahead to New Year's diets! (Am I right?) For now, let's relish this harvest time…
Link Party Hostesses & Some News
Each week, I've co-hosted this party with Julie from My Wee Abode and Michelle from Thistle Key Lane. (Be sure to visit each of their blogs and check out the different posts they selected as well!)
This week, I have some important news to share with you. After much deliberation, I've decided to take a break from the Tuesday Turn About link party.
As Julie and Michelle can tell you, I've struggled with this decision because I LOVE this community, and I'm so glad I made some new friends here.
It's simply a matter of trying to find a better balance between my business and my home life. (Weekends are more precious now that my boys are in Kindergarten.)
Julie and Michelle will continue to run this party with each choosing four features each week. Rest assured, I'll still be out there supporting all of you on Facebook, Instagram, etc.!
I want to thank Julie and Michelle for being such gracious and supportive friends. We'll continue to be blogging "besties" for many years to come! Thank YOU also for spending some of your time with me.
Now, let's get on to the party…
Julie: My Wee Abode | Pinterest | Instagram | Facebook
Crissy: First Day of Home | Pinterest | Instagram | Facebook
Michelle: Thistle Key Lane | Pinterest | Instagram | Facebook
What Your Hosts Have Been Up To…
First Day of Home
DIY Halloween Mantel Decorations | Painting Foam Pumpkins to Look High End
Thistle Key Lane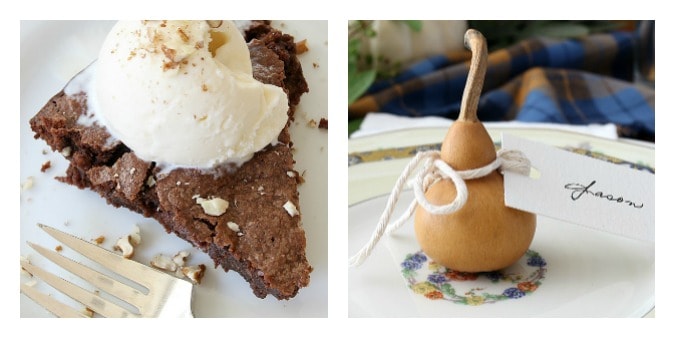 Best No Crust Fudge Pie Recipe | Easy Thanksgiving Tablescape Using Gourds And Plaid
My Wee Abode
Simple Fall Decor Using Place Cards
This Week's Features: Harvest Time Fall Inspiration
As a reminder, Julie and Michelle will now choose FOUR features each week! Be sure to check out their blogs next week and visit the Tuesday Turn About Pinterest board.
Yellow and Gray Tablescape
Lori from Dining Delight is all ready for Thanksgiving with this vibrant yellow and gray harvest tablescape. The colors and textures are so attractive and soothing.
I love getting inspired by unique color schemes for Thanksgiving, and Lori explains in her post how she was inspired to create this tablescape.
Unique Autumn Vignettes
If you need some smaller arrangements for your Thanksgiving decor, Rachelle from My Hubbard Home has just the thing. Her unique autumn vignettes have some very useful tips on achieving a "rustic" look.
I had never heard of Rachelle's hack for getting cans to turn rusty in a flash!
Homemade Apple Butter
I remember trying apple butter as a kid for the first time. It changed my small world! Carol from Comfort Spring has a great recipe for slow cooker apple butter that would make the perfect harvest time gift.
I could imagine serving some of this on Thanksgiving morning!
Don't forget to stop by My Wee Abode and Thistle Key Lane to see their weekly features!
Now It's Your Turn!
Because this is a party, we encourage all who link up to visit several other bloggers who have linked as well – comments and pins are a great way to spread the love!
Party Guidelines:
This party is for home decor and home-related posts only (recipes, organizing, DIY, crafts, etc). Feel free to link up to 3 related posts. Please do not link up informational posts that do not relate to the topic.
We ask that you please not link up shops, advertising, round-ups, other link parties, or any posts promoting sales.
DO NOT PIN FROM IMAGES ON THIS PAGE. (It just won't work right on Pinterest.) However, you are encouraged to visit the original post/source and pin from there. That works perfectly!
By linking to the party, you give us permission to share your projects on our blogs and on social media. We will always give proper credit with a no-pin image.
Visit our past link parties here
Thanks for stopping by!