The Best Elegant and Affordable Bridal Shower Decorations
Please support this site by sharing!
Today, I'm sharing my best elegant and affordable bridal shower decorations that you can DIY or buy at a great price.
I recently found the best bridal shower decoration supplies for my newly engaged niece. Now, I'm giving you the inside scoop on where to buy these items and create homemade accents for a personal touch.
This post contains affiliate links, and I will be compensated if you make a purchase after clicking on my links. For more information, please see my disclosures.
How do You Plan a Bridal Shower Party on a Budget?
Before we dive into the nitty-gritty, let's talk budget.
Party expenses have a way of ballooning, so here are tips to manage your pocketbook:
Hosting. Collaborate with other co-hosts, like siblings, friends, co-workers or extended family.
Venue. Choose a venue at an off-peak time or host at home.
Invitations. On a tight budget, consider using virtual invitations instead of printed.
Food. Pick a time of day that will include light bites and appetizers rather than a full meal.
Servingware. Buy disposable dishes, cups and napkins in bulk at a wholesale/club store.
Decor. Include personalized DIY decor. (Hint…you'll get plenty of inspiration below.)
Entertainment. Plan for light music (think Pandora or Spotify) and interactive entertainment, like games.
Favors. Give consumable items like candies, olive oil, or chocolates. (See example at the end of this post.)
Where to Begin Planning: Choosing a Bridal Shower Theme
As I highlighted in my party planning organizer, a lot needs to come together when you host a big event.
The first step in planning your pre-wedding party is deciding on a themed bridal shower. Try using a single theme, like a honeymoon destination, favorite city or hobby. Then, layer on a color scheme.
Bridal Shower Invitations
These days, you can find all kinds of wedding shower invitations online, both virtual e-cards and more formal printed ones.
My vendor of choice for party invitations and other wedding supplies is Basic Invite. I found some really lovely invites for my niece's shower there, and I'm happy to offer my readers an exclusive 30% discount on all products with the code FIRSTDAYINVITES!
Bridal Shower Table Decorations
After deciding on a general theme, I always choose a color palette.
For my niece's bridal shower, I needed three tables to accommodate our guests, so I wanted each table to have a common color scheme without being too "matchy."
Based on the floral template in my printable games, I decided to use blush pink, white, gold, and green as my color scheme.
I then incorporated this scheme throughout the flower arrangements and bridal shower tableware.
Place Settings
A place-setting arrangement will depend on the serving style for your wedding shower.
Since I had buffet-style food and refreshments for the bridal shower, I opted to use white tablecloths and gold doilies instead of full place settings. (Tap right/left arrows to shop similar gold chargers below.)

I then placed my free printable wedding advice cards on the doilies, together with gold-patterned washi tape pencils. The pencils came in handy if you play bridal shower games as well.
Floral Arrangements
For the floral arrangements, I recruited my favorite floral designer…my mom!
We selected a mix of white hydrangeas, blush-colored roses,
Gerber daisies in pink and white, and smaller pink roses. I love the bright, colorful display.
For accent greenery, we used seeded eucalyptus, which I highly recommend for its mix of textures. So lovely!
I always keep a few square vases on hand for special occasions. They don't crowd the place settings if you put out the fine china. A mason jar is another good alternative to use for floral arrangements.

Since my main formal dining table is too large for a tablecloth, I decorated it with two faux eucalyptus garlands (6-feet each) and real roses. These garlands will come in handy when hosting events for friends and family in the future!
You can find my best picks for similar garlands by clicking the images below. Another great option is a simple neutral table runner.

I then placed a few mercury glass votive candle holders and taller flameless candles on each end. I LOVE these mercury glass beauties, and you can see how I repurpose them throughout the year, like in this DIY mercury glass holiday centerpiece.
By the way, I'm also a big fan of these flameless pillar candles (sold in plain ivory or with the gold stripe). You won't find a better value anywhere else! They come with a remote control that lets you adjust the flame style and timer settings. Such a great buy!
Table Scatter
The last element I incorporated for the tables was table scatter. This mix of pearls and acrylic gems comes in very handy for other formal occasions, not just bridal showers.
Here are a few more decorating ideas using pearls and gems:
Vase filler
Buffet table decorations
Cake decorations
Embellishments for signs and cards
DIY Table Numbers
For a large wedding shower, or in preparation for the wedding itself, you may want to consider making table numbers.
These DIY wedding table numbers look stunning, and I show you exactly how to make them in my related post.
DIY Bridal Shower Chair Sashes
When I hosted a 50th-anniversary party for my parents last spring, I decided to make my own chair sashes. I considered renting chair covers, but I felt I could make some DIY chair sashes more affordably.
The tulle I used gives a very soft and "bridal" effect. I wish I could leave these on all year round! Stay tuned for a step-by-step video tutorial on how I achieved this little "messy bun" style.
It looks like my chairs are…going to the chapel, and they're…gonna get ma-a-a-rried!
DIY Pom-Poms and Paper Flowers
Those of you following me on Instagram saw the DIY multicolor pom-poms I created for the bridal shower. I also designed paper flowers using my trusty Silhouette Cameo and wedding-themed scrapbook paper.
You can see how these two paper decor items added some extra charm to my DIY bridal shower banner. Perfectly customized for the guest of honor!
To see how I transformed these paper pom-poms and flowers into a backdrop, see my post with Fun and Affordable Mimosa Bar Ideas.
Though I created my own pennant banner for this bridal shower, you can order one of several customized designs by clicking on the images below.

Bridal Shower Cake and DIY Cake Stand
For dessert, why not carry through your floral theme by adding fresh flowers to a simple but beautiful white cake?
If you want to "elevate" your cake (literally), try making my DIY cake stand, which also serves as a lovely take-home gift for the bride and groom.
DIY Wedding Shower Photo Props and Frames
DIY bridal shower decor should also include some fun and entertainment before opening gifts. Who doesn't love a good bridal shower game?
To me, that means photo props! I found this adorable photo prop set that I could print and cut on my own. I then placed these in my favorite mini cart and added some "just married" cans for kicks.
But why stop there? I decided to make a second enlarged bridal shower sign to create more photo ops.
I designed it in Photoshop using the same graphics as my bridal advice cards and then sent it off to a print shop. The giant print came back on foam board, and I cut out the hole in the middle using a craft knife.
If you're not interested in making your own frame, click the image below to explore dozens of other digital file downloads you can customize for your event.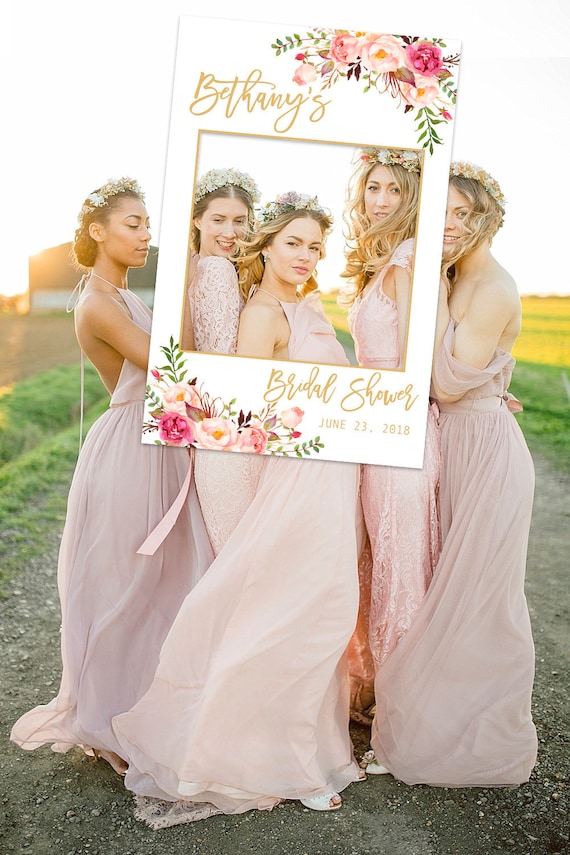 Paper Lanterns
For evening wedding showers, these lanterns add another elegant touch and won't cost an arm and a leg either! You can order lantern lights separately.

Other Special Touches for the Guests of Honor
To make the bride or happy couple feel extra special, consider adding flower crowns for the bridal party or sashes for the bride and groom. Etsy and Amazon offer many affordable options like the ones below.
Flower crowns for the bride
The best part about buying one of these crowns for a bridal shower or bachelorette party is that the bride can reuse the crown for the big day. (Click to shop.)

Bride and Groom Sashes
While I love DIY sewing projects, I opted to buy a bridal sash because this one on Amazon beat the price of making one from scratch.
The groom can have his own version, too!
DIY Bridal Shower Favors
To tie a ribbon on the event (pun very intended), I created biscotti treat bags and designed a "thank you" tag with my Silhouette Cameo. My niece is heading to Italy for her honeymoon, so I tried to sprinkle in some Italian accents here and there.
On Amazon, you can buy a large bin of biscotti or other cookies to wrap individually. I used baker's chocolate to dip each biscotti before placing them in plastic treat bags.
I also love this small Etsy shop I discovered that makes custom party favor bags. These would work well for the rustic, farmhouse decor trend that is so hot right now.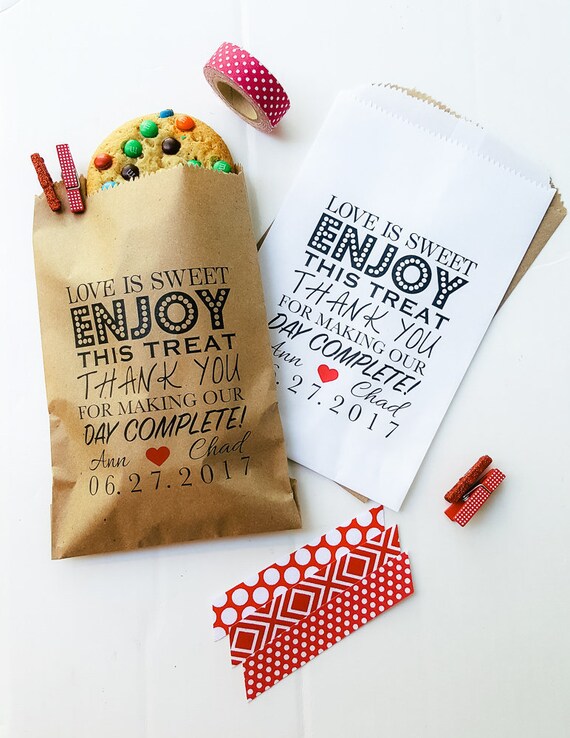 You might also like these wedding ideas:
I hope you enjoyed these bridal shower decoration ideas, homemade and store-bought for the bride and groom. Don't forget to follow me on Pinterest and Instagram to catch the latest!
Pin it for later!
Please support this site by sharing!