The Year's Top Newlywed Ornaments and Gift Ideas
Please support this site by sharing!
Need Christmas gift ideas for a newly engaged or married couple? What better way to commemorate their special day than with one of the year's top newlywed ornaments and gift ideas?
This post contains affiliate links, and I will be compensated if you make a purchase after clicking on my links. For more information, please see my disclosures.
According to the wedding registry site Zola, 40% of couples now plan their weddings in September and October. This means, there are a lot of newlyweds hanging around by the Christmas tree! (Or maybe under the mistletoe?)
Below, I've listed my favorite picks for newlywed ornament ideas that you can find on Etsy!
At the end of this post, I'm also including a few great gift suggestions beyond ornaments.
Tips Before You Shop for a Newlywed Christmas Ornament
My niece recently married her sweetheart, so I'm selecting these ornaments with a very real gift recipient in mind! As you shop on Etsy, ask yourself these questions:
What's Their Style?
Do the newlyweds like the farmhouse feel?
Are they modern or classic?
Do they have a color scheme for their Christmas decor?

What is special or unique about the couple?
When searching for the perfect newlywed Christmas gift, it also helps to answer the following questions. These may spark an idea for a unique and thoughtful gift.
Did the newlyweds have a special destination wedding or location where they met?
Does the couple have a new home?
Are there pets in the household? (Some gifts include options for pets as part of the family.)
Does the bride or groom have a special hobby that you can incorporate?
Does the couple have any honeymoon plans?
Do you need a photo?
If you're hoping to personalize the ornament with a photo, request the photo from the couple soon. You'll need to upload the photo to your chosen Etsy shop and factor in processing and shipping time.
Related posts:
Best Free Printable Advice for the Bride Cards
How to Make a Homemade Christmas Wreath from Scratch
Wedding Ornaments with Photos
One of my favorite ways to honor newlyweds is with a portrait gift. Many Etsy sellers offer portraits with photos or cartoons/caricatures that you can customize.
1. "Married and Merry" Photo Ornament
Here's a "married and merry" tree ornament with a whimsical, yet simple design…easy to please most couples!
This particular Etsy shop has multiple formatting options, and the ornaments are double-sided and shatterproof.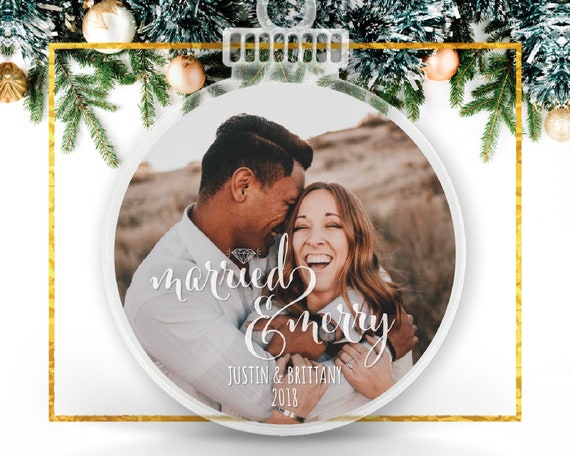 2. First Christmas Newlywed Photo Ornament
I also love this little newlywed number, which is a bit more feminine. I'm always a fan of the "less is more" approach if the couple is more traditional with their Christmas tree ornament decor.

3. Simple Ceramic Newlywed Ornament
The ornament below is beautiful in its simplicity. The marble background looks classy, and it leaves plenty of space for your personalized photo.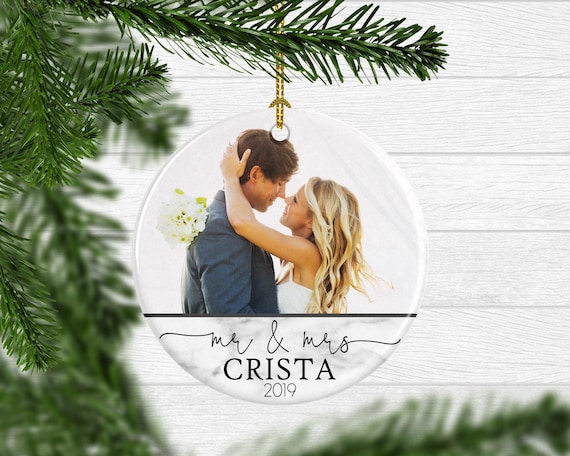 4. Caricature Ornament for Newlyweds
Jade Forest Design offers the ornament below with adorable caricatures for newlyweds. The shop has a 5-star rating with over 2,200 reviews. I wonder what my hubby and I would look like in our caricature version…hmmm.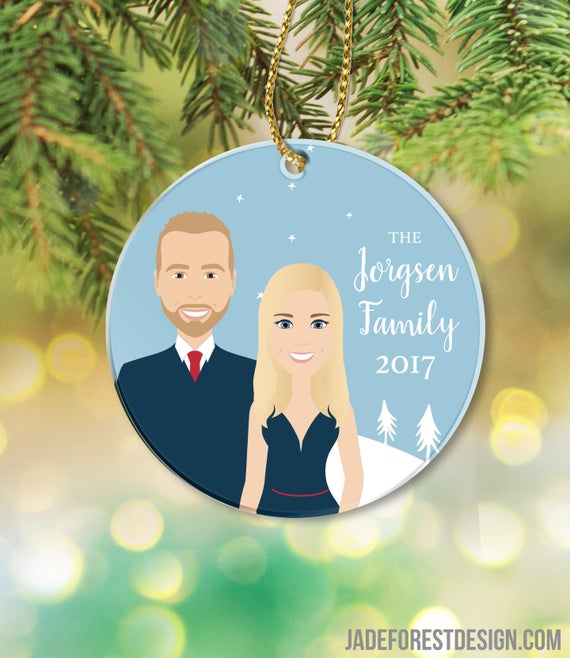 5. Bitmoji-style Newlywed Couples Ornament
I love the cartoon-ish style of the newlywed ornament below. This shop can customize the features of the newlywed couple down to facial hair and glasses.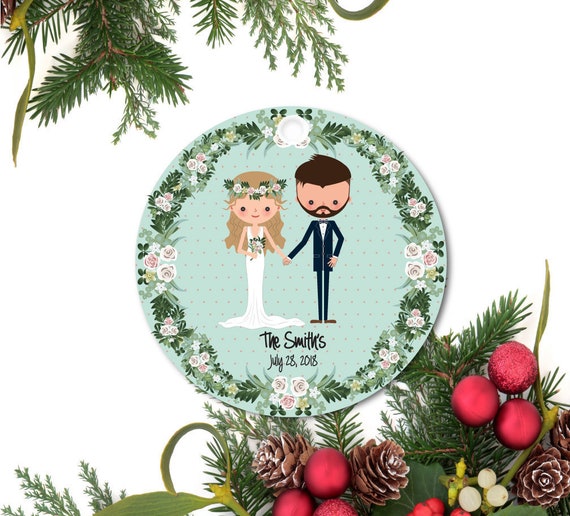 Printed and Engraved Newlywed Christmas Ornaments
If you think your intended gift recipients would prefer a simple text style (or if you don't have a photo available), try these ornaments on for size.
6. Ceramic Round Holiday Ornament
Esty offers ceramic holiday ornaments personalized with the bride and groom's name and year or with a simple "Mr. and Mrs." text. The ornament below comes with plaid, white or burlap ribbon for an added special touch.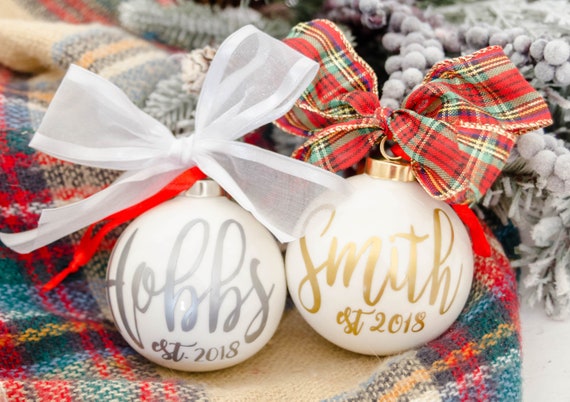 Update: I actually ended up purchasing this personalized ornament for my niece. The seller shipped the product very promptly, and the quality was wonderful…just as pictured in the photo!
7. Ceramic Ornament for Newly Engaged Couple
If your couple is newly engaged but not married by Christmas, you can give them a gift that will build anticipation for their wedding day.
When my husband proposed, he used an ornament similar to this one to pop the question!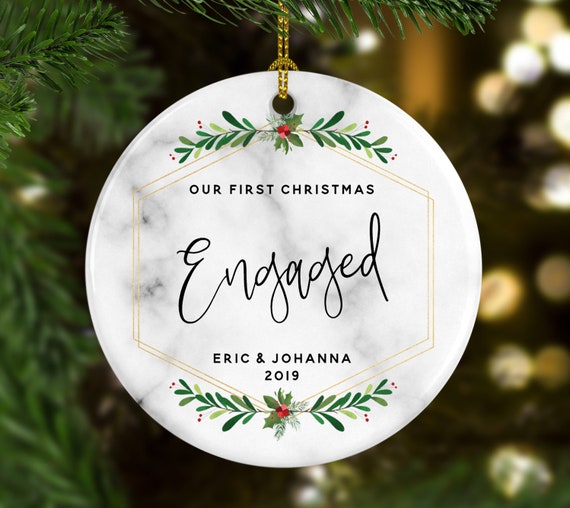 8. Farmhouse Printed Newlywed Ornament
This affordable farmhouse-style ornament comes in aluminum or ceramic, and the seller has a five-star rating with over 5,600 reviews!
With its border of roses, this style leans a bit feminine, but you know what they say, "Happy wife…"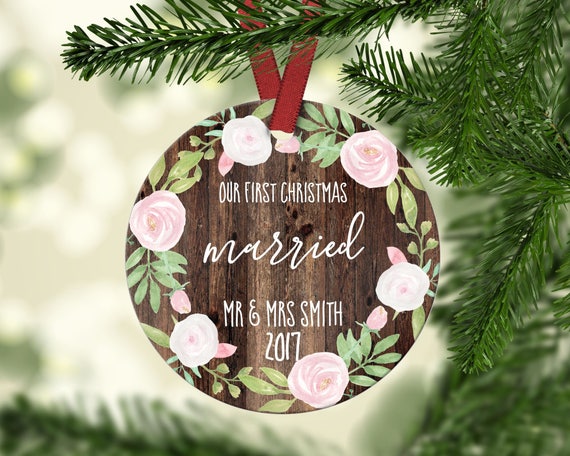 9. Wooden Engraved Newlywed Ornament
The muted colors in this wooden ornament blend well with most styles, so I'd call this a safe bet if you're unsure about the happy couple's home decor. Don't you love those fancy fonts?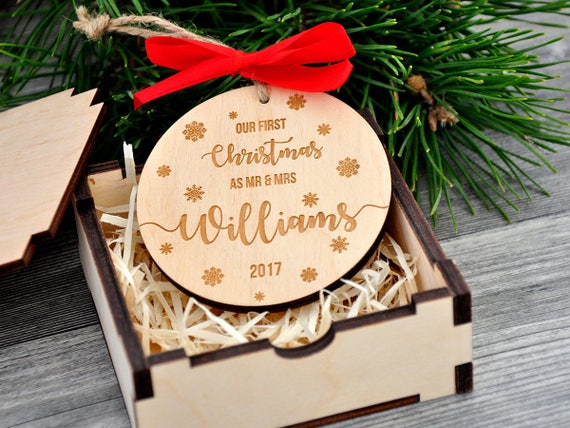 Other Custom Newlywed Christmas Ornaments
Etsy offers several options for more formal or intricate newlywed ornaments like the ones below.
10. Handmade Paper Flower Newlywed Ornament
Wow, this handmade paper flower ornament will delight any newly married couple. One reviewer writes, "You can tell it is high quality…absolutely recommend."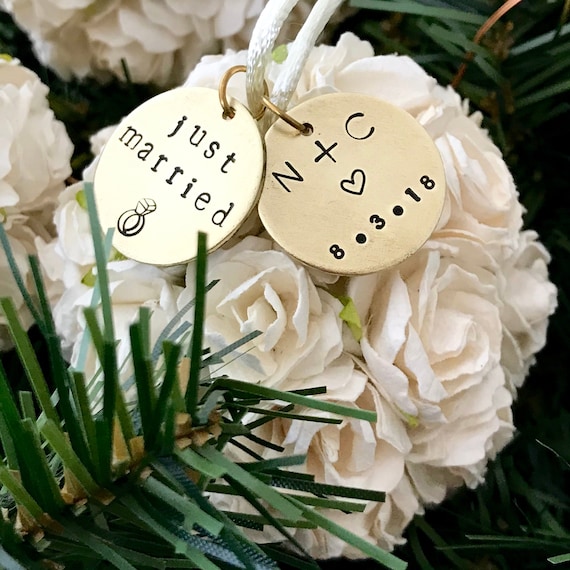 11. Custom House Replica Ornaments
This custom replica of a house has "newlywed couple" written all over it! I'm amazed at the detail on these made-to-order polymer clay ornaments. Please note, these ornaments may take a few weeks to ship because each is custom and handmade!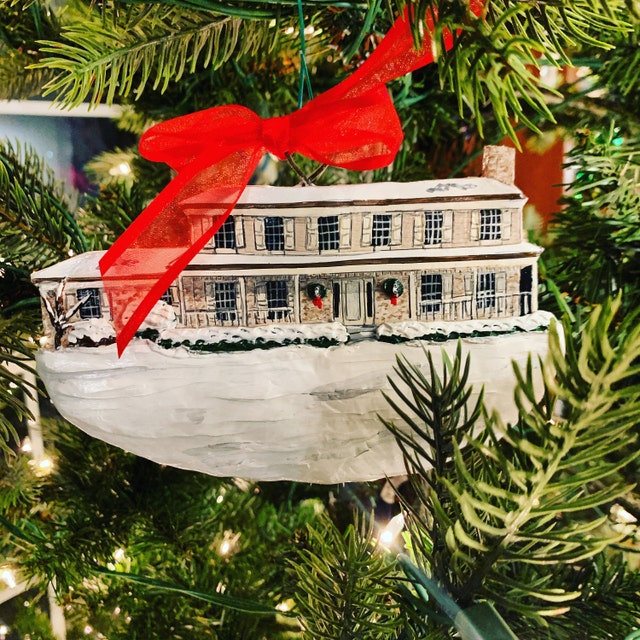 12. Hand-Stamped Ornaments
These aluminum hand-stamped ornaments offer a more formal appeal and also coordinate well with any decor. These make great keepsakes for newlywed couples.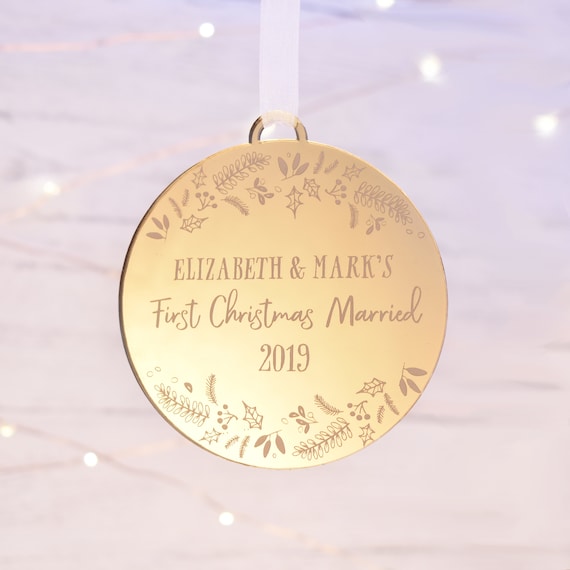 In many cases, you can customize the ribbon that comes with the tree ornament.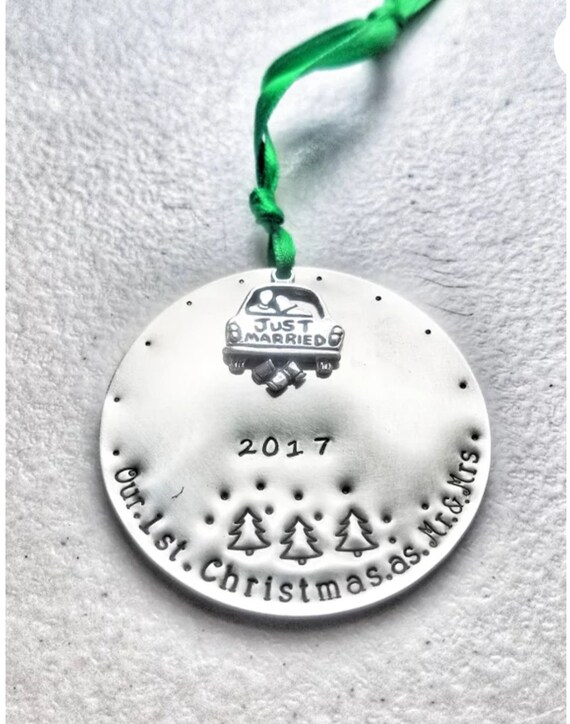 Some ornaments like this one can include the date of the wedding in the design.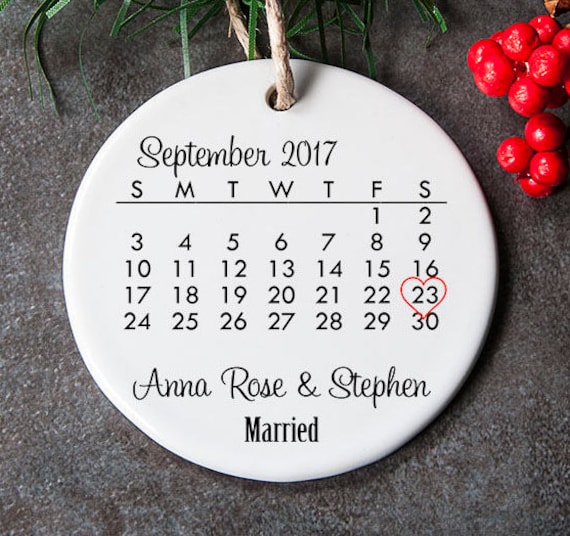 Other Newlywed Wedding Gift Options for Christmas
If newlywed ornaments don't ring your bell, try these other wedding gift options for Christmas.
1. First Dance Lyrics on Canvas
Hop on the canvas art train with this beautiful keepsake that places the newlywed's first dance lyrics into a heart shape. I could picture this over a couple's bed or above a sofa in a living room.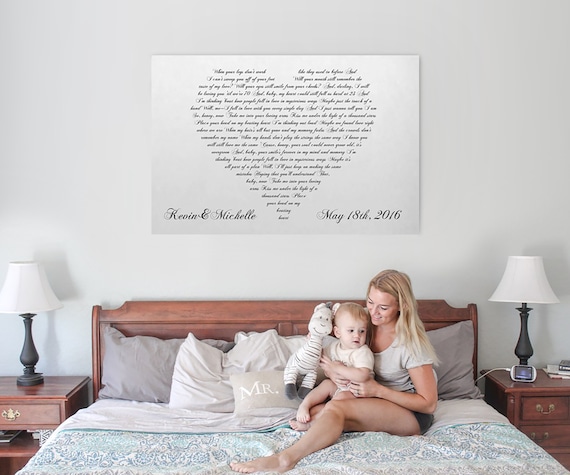 2. Longitude and Latitude Driftwood Sign
Whether or not your newlywed couple had a beach destination wedding, this driftwood sign would make a thoughtful Christmas gift. It has such rustic charm, which is all the rage these days, especially among millennials.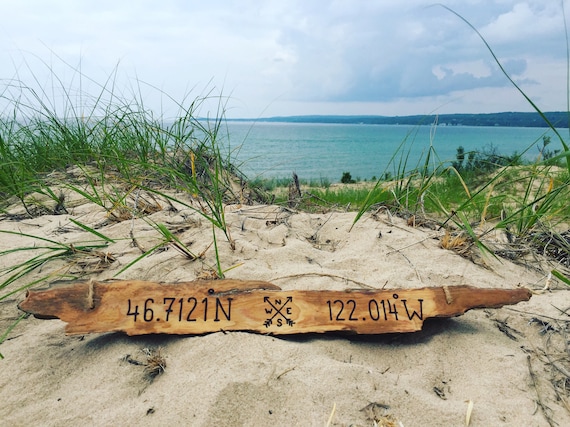 3. Personalized Cutting Board or Cheese Board
I have personally ordered Etsy cutting boards or cheese boards as gifts for married couples. These commemorate the special day and come in handy in the kitchen.
The second set with cheese knives is simply stunning.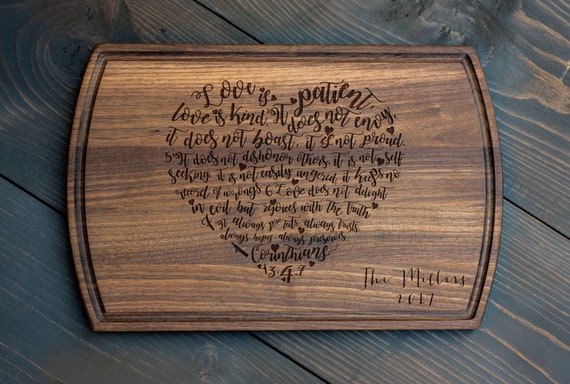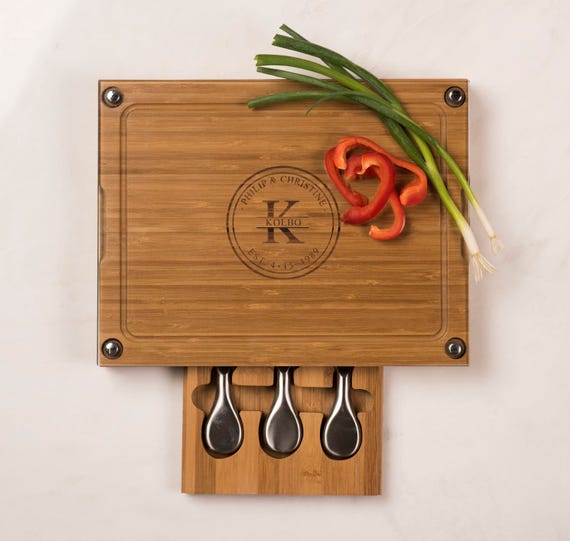 4. Engraved Wine Glasses
Don't forget to pair the cheese with some wine! These engraved wine glasses will help the happy couple commemorate their special day for years to come.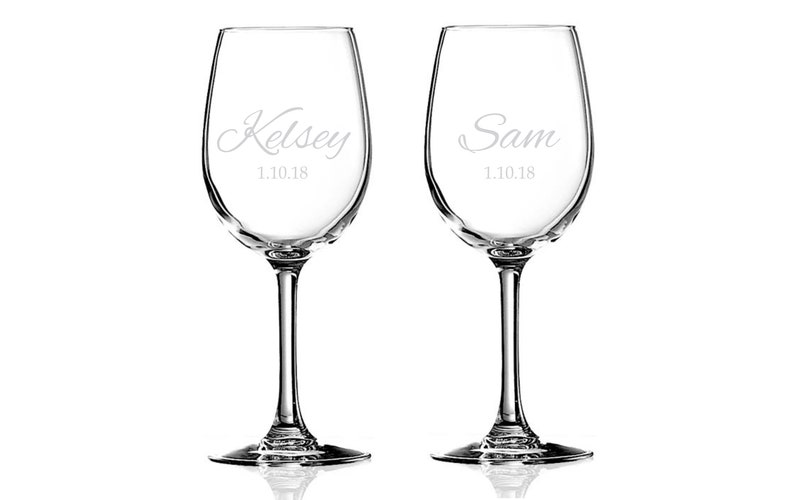 5. His and Hers Couples Mugs
You can also help the newlyweds enjoy a cup of coffee or tea with these "Mr. and Mrs." mugs. These make great stock stuffers, too.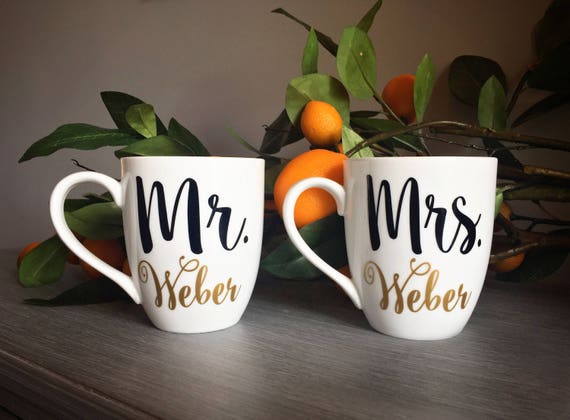 6. His, Hers and Dog Wall Hanger
If your newlyweds own a dog, this key and leash holder would make an excellent Christmas gift!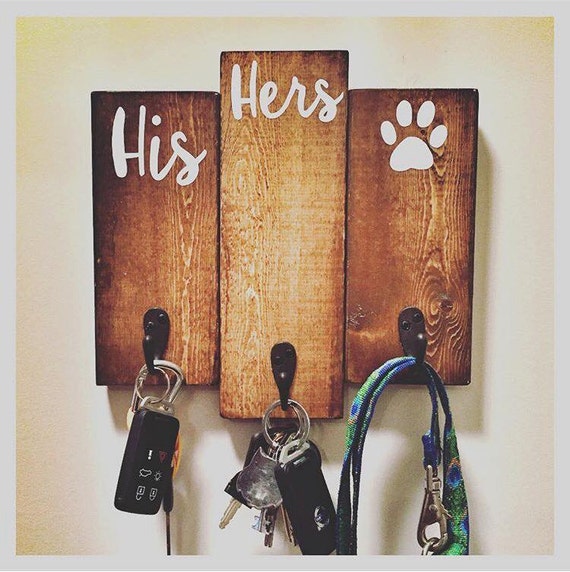 Tips When Ordering on Etsy
Order Deadlines: As mentioned earlier, it's important to place your customized Etsy order by the first week in December to guarantee delivery by Christmas.
Personalization: Usually, when personalizing a gift, the seller doesn't offer refunds. Make sure you double-check names and dates when placing a customized order.
Reviews: Pay attention to reviews when selecting an Etsy vendor. Most shops will have reviews from customers with verified purchases.
Gift wrapping: When ordering a gift close to Christmas, you may want to compare gift-wrapping options. Having your gift sent directly to the married couple will make it easier for you, and not having to wrap one more gift is an added bonus.
Gift card: If you can't decide what to order for your recipients or have run out of time, consider ordering an Etsy gift card. The couple can then choose a personalized gift that fits their needs.
Pin it for later!
For more gift guides, craft projects and other inspiration, please consider signing up for my newsletter or following me on Pinterest.
Happy Holidays!
Please support this site by sharing!